When you're in the process of evaluating employment opportunities one thing to consider is the cost of living in different areas. This Excel tool takes compensation information and evaluates it compared to the cost of living in different areas. The results that it provides don't necessarily map to the exact location, rental situation, or grocery store you might find yourself in after the move. But it does give a nice baseline to check the general differences between locations.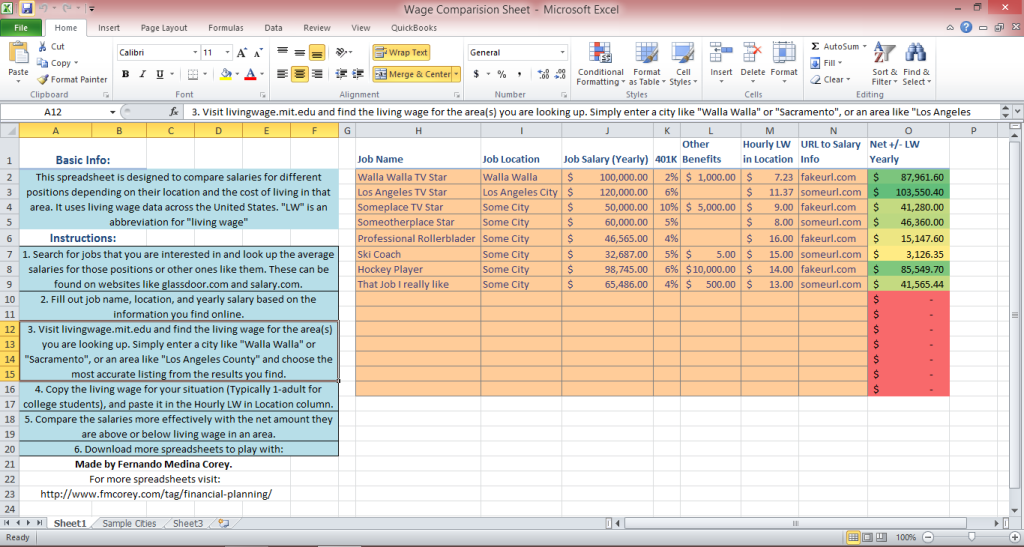 Download the spreadsheet here.
Basic instructions are also included within the spreadsheet but here they are:
Search for jobs that you're interested in and look up the average salaries for those positions or other ones like them. Find this information on websites like glassdoor.com and salary.com.
Fill out job name, location, and yearly salary based on the information you find online.
Visit livingwage.mit.edu and find the living wage for the area(s) you are looking up. Simply enter a city like "Walla Walla" or "Sacramento", or an area like "Los Angeles County" and choose the most accurate listing from the results you find.
Copy the living wage for your situation, and paste it in the Hourly LW in Location column.
Compare the salaries more effectively with the net amount they are above or below living wage in an area.